Alberto Nahman Benveniste est né le 6 février 1904 à Salonique, alors partie intégrante de l'Empire ottoman. Diplômé de l'École supérieure de commerce de Marseille, il travaille d'abord à Wall Street, à New York, et étudie aussi le journalisme à l'université Columbia. Il monte sa propre affaire à Marseille dans les années 1930. En 1933, il épouse Sara Marcos Salem Saporta.
Celle-ci est née à Salonique le 31 janvier 1910, fille d'Ovadia Marcos et d'Henriette Salem Saporta. Sa mère, devenue veuve très tôt, l'a élevée au sein de sa famille. En 1924, elles ont toutes deux quitté Salonique pour s'installer à Paris. Sara a été élève au Lycée Victor-Duruy, et a poursuivi ses études à la Faculté de droit de l'université de Paris Sorbonne.
Alberto et Sara Benveniste ont eu deux enfants, Monique et Serge. En 1943, protégé par sa nationalité portugaise, Alberto Benveniste s'installe avec sa famille à Lisbonne, où il se spécialise dans les affaires financières, la bourse et surtout la gestion de fortunes et le marché des options.
Homme de trois cultures, la française, l'américaine et la portugaise, Alberto Benveniste a toujours nourri une passion pour l'histoire des Sépharades, ces juifs chassés d'Espagne en 1492, et plus tard du Portugal, dont il était l'un des descendants. Il est mort en 1985 à Lausanne où la famille vivait depuis 1960.
C'est à la mémoire d'Alberto Benveniste que son épouse et ses deux enfants ont dédié le Centre Alberto-Benveniste d'études sépharades et d'histoire socioculturelle des juifs fondé le 1er janvier 2002 à la Section des Sciences religieuses de l'École pratique des hautes études, à Paris. Une chaire à son nom existe également à l'université de Lisbonne.
Sara Marcos de Benveniste est décédée en 2002 à Lausanne. C'est pour honorer sa mémoire qu'a été créée, l'année suivante, la Bourse Sara Marcos de Benveniste en études juives, octroyée chaque année par le Centre Alberto-Benveniste à un(e) étudiant(e) en Master 2 ou en doctorat, inscrit(e) dans un établissement universitaire français.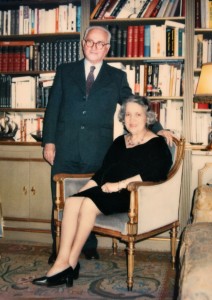 | | |
| --- | --- |
| [print_link] | |

Alberto Nahman Benveniste was born on 6 February 1904 in Salonica, which was then part of the Ottoman Empire. A graduate of the École Supérieure de Commerce in Marseille, he first worked on Wall Street and also studied journalism at the University of Columbia. In the 1930s he set up his own business in Marseille, and in 1933 married Sara Marcos Salem Saporta.
She was born in Salonica on 31 January 1910, the daughter of Ovadia Marcos and Henriette Salem Saporta. Her mother, who was soon widowed, brought her up within her family. In 1924 they both left to settle in Paris, where Sara was educated at the Lycée Victor-Duruy and continued her studies at the Faculty of Law in the Sorbonne.
Alberto and Sara Benveniste had two children, Monique and Serge. In 1943, protected by Portuguese citizenship, Alberto Benveniste settled with his family in Lisbon, where he specialized in finance, the stock exchange and, above all, asset management and options trading.
A man of three cultures (French, American and Portuguese), Alberto Benveniste was descended from the Sephardi, the Jews driven out of Spain in 1492 and later from Portugal, and always felt a keen interest in their history. He died in 1985 in Lausanne, where his family had been living since 1960.
It was to his memory that his wife and two children dedicated the Alberto Benveniste Centre for Sephardic Studies and Jewish Social and Cultural History, which was founded on 1 January 2002 within the Religious Studies Department of the École Pratique des Hautes Études, Paris. A Chair with his name also exists at the University of Lisbon.
Sara Marcos de Benveniste passed away in Lausanne in 2002. The following year, in honour of her memory, the Alberto Benveniste Centre created a Sara Marcos de Benveniste Scholarship in Jewish Studies, to be awarded each year to one student at Masters II or Doctorate level registered in a French university.